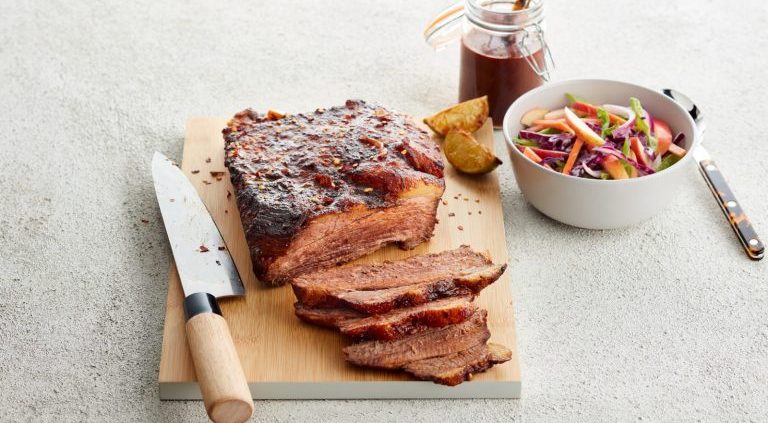 Slow Cooked Celtic Pride Brisket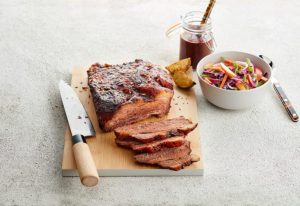 Ingredients
1.5kg piece of Celtic Pride PGI Welsh Beef brisket (code 33136 / 42132)
Seasoning
1 tbsp oil
1 large onion, peeled and sliced
4 garlic cloves, peeled and crushed
1 tbsp smoked paprika
1 tbsp ground cinnamon
1 tsp paprika
1 tsp mild chilli powder
2 tbsp soft brown sugar
1 tbsp maple syrup
1 tbsp light soy sauce
1 lime, cut into wedges
500ml beef stock
2 tbsp tomato purée

Heat the oven to 150°C / 130°C fan / Gas 2.
Heat the oil in a large frying pan. Season the brisket and place in the hot oil. Sear on all sides, getting a nice brown colour on the brisket.
Remove the brisket from the pan and place in a deep oven tray or casserole dish.
Using the same pan, fry the onion and garlic until golden and place in the oven tray or casserole dish around the brisket.
In a small bowl, mix together all the dry ingredients, add the maple syrup and soy sauce and mix into a smooth paste. Smear the paste over the top and sides of the brisket.
Mix the tomato purée into the stock and gently pour around the edge of the oven tray or casserole dish. Add the lime wedges.
Cover with foil or a lid and place in the oven for approximately 2 hours 30 minutes – 3 hours.
When the meat is tender, remove the foil and increase the oven temperature to 200°C / 180°C fan / Gas 6. Baste the meat and return it to the oven for 20 minutes until the surface is crisp and sticky. Allow the brisket to rest for 10 minutes.
Drain the rest of the sauce and thicken if necessary. Serve with the sliced brisket and crispy slaw.
http://www.celtic-pride.co.uk/wp-content/uploads/2021/11/Slow-cooked-Welsh-Beef-brisket-768x528-1.jpg
528
768
Natalie Jones
Natalie Jones
2021-11-17 10:05:31
2021-11-17 10:08:28
Slow Cooked Celtic Pride Brisket