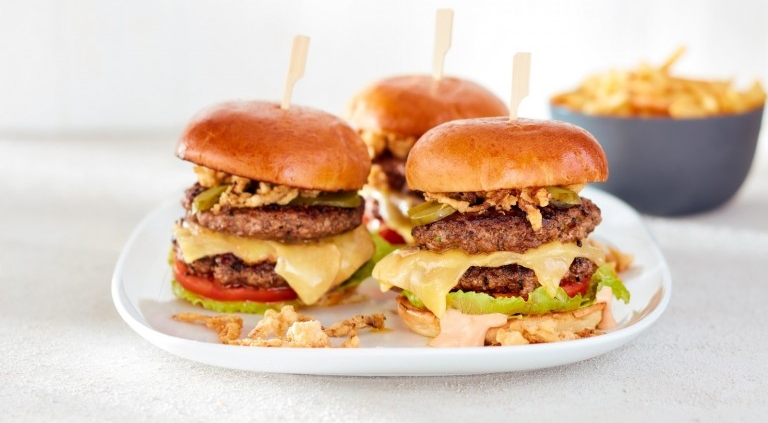 Smashed Beef Burgers with Crispy Shoestring Onions
Ingredients
800g Celtic Pride PGI Welsh Beef mince
Seasoning
For the easy burger sauce:
4 tbsp mayonnaise
2 tbsp ketchup
1 tsp yellow mustard
Pinch of garlic powder
To assemble:
Crispy lettuce
4 slices of large tomato
Pickled gherkins, sliced
4 bread buns of your choice
Butter (to spread on buns)
4 slices of cheddar cheese
For the crispy shoestring onions:
1 onion, finely sliced
2 eggs, beaten
2 tbsp milk
Pinch of garlic powder
Seasoning
125g plain flour
Oil, for frying___________________


Method

To prepare the patties, divide the mixture into 8 equal meatballs.
Place a sheet of greaseproof paper on a tray and pop each meatball on the paper, flattening with your hand. Place another sheet of paper on top and flatten with hand or a food scraper.
Place the patties in the fridge until ready to cook.
Make the burger sauce by mixing the ingredients together.
Spread each halved bun with butter and place on a hot griddle to colour.
Prepare the crispy onions. In a small bowl, mix the flour, seasoning and garlic powder. In another bowl, beat the egg and milk.
Pour vegetable oil into a medium sized pan, enough to be 3cm deep, and heat until the oil is hot.
Take a handful of the onions and dunk them in the egg mixture, then toss them in the flour and then carefully place them in the hot oil. Fry for a few minutes until crisp and golden. Drain on kitchen paper and repeat until all the onion is cooked.
Take the patties out of the fridge and remove the top paper layer. With the back of a spoon or your thumb, make a dent in the middle of each burger (this will stop it puffing up).
Heat a pan or griddle plate and when hot, place the burgers on the griddle and season well.
Cook for a few minutes each side, using the spatula to press down on the burgers. Cook until nicely browned.
Place a slice of cheese on each of the 4 patties, and when melted, pop the other patties on top to create a double patty.
Assemble the burgers. Spread the burger sauce on the bottom of the buns, add the lettuce, tomatoes and gherkins, place the patties on top and then a handful of the crispy onions. Finish with the burger lid.
Serve with fries and a crunchy slaw.
http://www.celtic-pride.co.uk/wp-content/uploads/2022/02/Welsh-Beef-smashed-burgers-2-768x512-1.jpg
512
768
Natalie Jones
Natalie Jones
2022-02-12 14:04:18
2022-02-12 14:08:57
Smashed Beef Burgers with Crispy Shoestring Onions