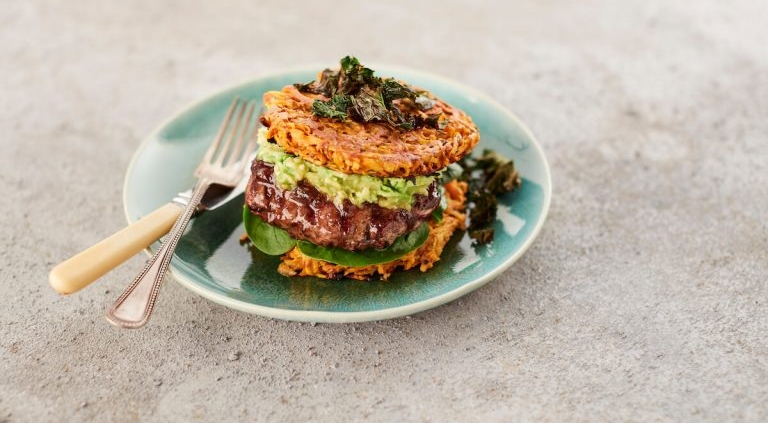 Lean Beef Burger in a Sweet Potato Bun with Kale Crisps
Ingredients
Welsh Beef burger:
500g lean Celtic Pride PGI Welsh Beef mince
1 dessert spoon wholegrain mustard
Salt and pepper to season
Oil for frying
1 avocado, smashed and seasoned
1 handful of spinach
4 tbsp caramelised onion chutney
For the sweet potato bun:
400g sweet potatoes, finely grated
2 medium eggs
50g wholemeal flour
2 tsp dried thyme
Salt and pepper to season
Oil for frying
Kale crisps:
Kale, washed, chopped and stalks removed
1 tbsp garlic salt
1 tsp paprika
1 tsp brown sugar
1 tbsp oil

_____________

Method

Mix the ingredients for the sweet potato bun (apart from the oil) in a large mixing bowl and divide into 8 patties. Heat the oil in a non-stick frying pan, and fry the patties for 3 minutes each side or until browned.
Mix the beef burger ingredients (apart from the oil) in a mixing bowl, divide into 4 and shape into 4 large thin burgers. Add the oil to the non-stick frying pan and cook the beef burgers for 4-5 minutes each side, until cooked through.
Layer the spinach, avocado, beef burger and caramelised onion on a sweet potato patty, and top with a second sweet potato patty.
Meanwhile, mix the kale with all of the ingredients in a bowl, spread evenly on a baking tray and bake in a preheated oven 200°C/ 180°C fan / Gas 5 for around 3 minutes until crisp. Serve with the beef burger.
http://www.celtic-pride.co.uk/wp-content/uploads/2022/02/2_The_ultimate_PGI_Welsh_beef_lean_burger-768x512-1.jpg
512
768
Natalie Jones
Natalie Jones
2022-02-12 14:12:16
2022-02-12 14:12:51
Lean Beef Burger in a Sweet Potato Bun with Kale Crisps